Item Number
1-021417-0845-100
Professional and Reliable LED Surgical Light System The TriLite LED S600 Series is a professional and reliable LED surgical light system with impressive optical performance to match all major clinical requirements for OR illumination.
TriLite LED S600 Series - LED Revolution
The TriLite LED S600 Series most important feature are its LEDs. On the one hand, its cool light protects the patient's tissue from drying out and provides optimum work conditions for the surgeon. On the other hand, the TriLite LED are extremely low-maintenance and reliable which last much longer than other light sources, while providing a very high luminous efficiency. Last but not least, their compact size make the TriLite LED especially small, flat and streamlined - which in turn gives its distinctive and justifi­ably futuristic appearance.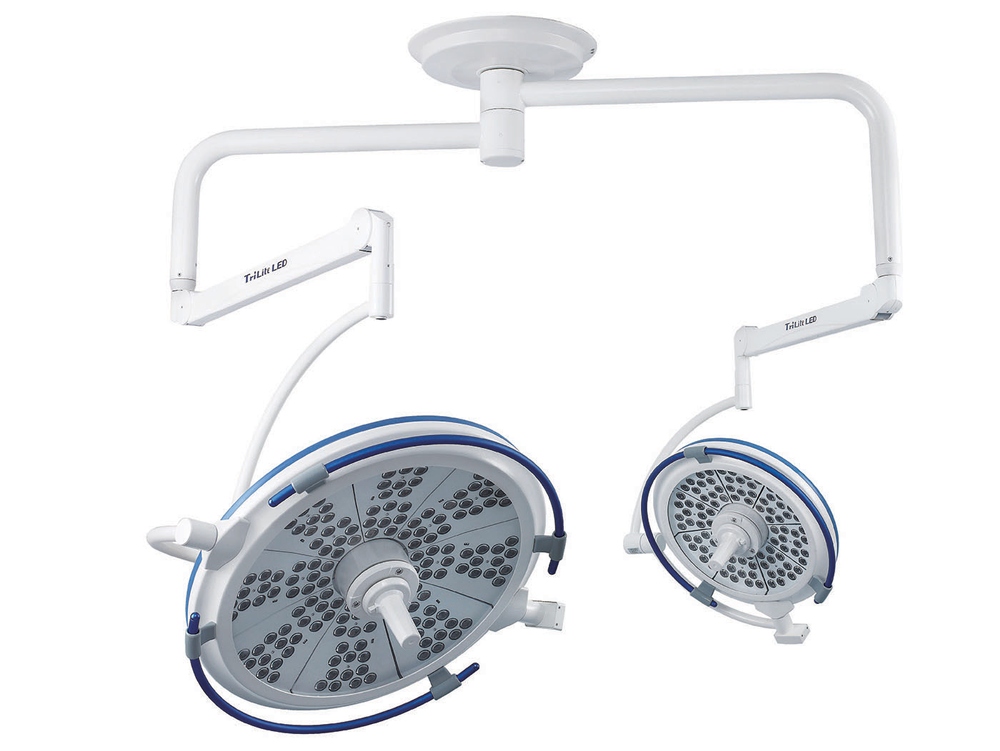 A Pure White LED light source
The TriLite LED S600 emits light at a color temperature of 4,500K with a render index above 95. With great R9 to enhance surgeon comfort and concentration during long period procedure. This excellent quality of LED light makes a situation illustrated in Figure II revert to historical insignificance.
High quality imaging for excellent communication
The Full HD Imaging System addresses the needs of the surgical team for excellent imaging requirements. The built-in Full HD camera allows live broadcast of the surgical procedure and captures the full scene that illuminated.
Environment protection and Energy efficiency
This technology is better, not only for you and your patient, but for the environ­ment as well. With many hospitals devoted to 'green' practices, Tri Lite LED can be part of your solution. Not only does it use one-third less energy than traditional lights, but it is rated for 40,000 hours of life. Less energy, less waste, better per­formance. Now that is a brighter idea.
Features
LED Revolution
The TriLite LED S600 most important feature are its LEDs. Its cool light protects the patient's tissue from drying out and provides optimum work conditions for the surgeon.
Endo-LED for MIS environment
Endo-LED handle producing a soft environment illumination ideal for Minimally Invasive and Microscope Surgeries.
Shadow Reduction Control
The relation between light body and light field diameter guarantees an optimum il­lumination of the field in terms of area and depth.
Cool Light Source
TriLite LED technology reduces tradi­tional heat dissipation created by infra­red emissions. This infrared-free light provides the surgeon with a more com­fortable and productive working envi­ronment and improves patient safety. Low Heat: 2.2 mW/m² radiant energy.
Deep Cavity Penetration
The central illumination level Ec in 1m distance for 160,000 Lux with illumi­nation depth of luminaire L1 + L2 of 1,100mm.
Auto Shadow Management
Auto shadow management masked ar­eas around surgeon's head are reduced whereas remaining zones are boosted. Less heat on surgeon's head. The Trilite LED light head provides an ideal shadow control whatever the surgeon position (only for TriLite S600-700 optional).
Light Head Control Box
The TriLite LED series is capable of 12 levels of intensity. lt provides 25% to 100% illumination while maintaining high color rendering index at any light level.
DomeVision Image System
DomeVision Image System truly meets the multimedia needs, also broadens the range of possibilities, in addition optimizes the workspace. This flexible concept adapts to the needs of the individual user. Miscellaneous equipment such as a built-in CCD, the camera carried by the separated suspension arm with double or single flat screen.
Technical Specification
Model

Tri Lite LED S600-500

Tri Lite LED S600-700

Type

LED Surgical Light

LED Surgical Light

Series

Tri Lite LED S600

Tri Lite LED S600

Maximum intensity at 1m distance [Lux]

120,000

160,000

Diameter of the field at 1 m (range) [mm]

160~250

160~310

Maximum depth of field [mm]

1,200

1,100

Color temperature [Kelvin]

4,500

4,500

Color rendering index [Ra]

>95

>95

Diameter of light-head/quantity [mm]

560

760

Temperature increase

<2° (head), <12° (working field)

No. of Bulb LED

96

160

Light-head weight [kg]

14.5

20.4

Total irradiance [mW/m²]

2.2

2.2

AC Input [V AC]

100~240

LED Average life [h]

40,000

Intensity level indication/Method

12 steps/electronic

Minimum height from ground to ceiling [mm]

3,000

Item number

1-021417-0845-110

1-021417-0845-120
Further Information
Brochures
Product Brochure Trilite LED S600 Series

View and print brochure in fullscreen
Download brochure as PDF
Product Overview OR Equipment BenQ

View and print brochure in fullscreen
Download brochure as PDF
Certificates
More Information

| | |
| --- | --- |
| Item Number | 1-021417-0845-100 |
| Delivery Time | 2-3 Tage |
| Short Description | Professional and Reliable LED Surgical Light System The TriLite LED S600 Series is a professional and reliable LED surgical light system with impressive optical performance to match all major clinical requirements for OR illumination. |