Item Number
1-191903-0204-107
SonoScape S22 bundle including two high-value probes Color doppler trolley system with 19" monitor and 4 transducer sockets. 64 phys. channels, compatible to HD probes, flexible monitor arm. Including HD linear probe L752 and high-value convex probe C353.
Intelligent Design and Efficiency
The S22 brings advanced ergonomics, technology, and a full suite of applications into a price-range that won't break your budget. The elegant S22 is specially designed for all modalities, including radiology, cardiovascular, OB/GYN, vascular, MSK, small parts, and more. This system is featured with a smart touchscreen, high-end imaging technologies, and an efficient workflow. Thanks to our innovative technologies, such as Multi-beam processing and μ-scan speckle reduction, clinicians will be confident for even toughest patients.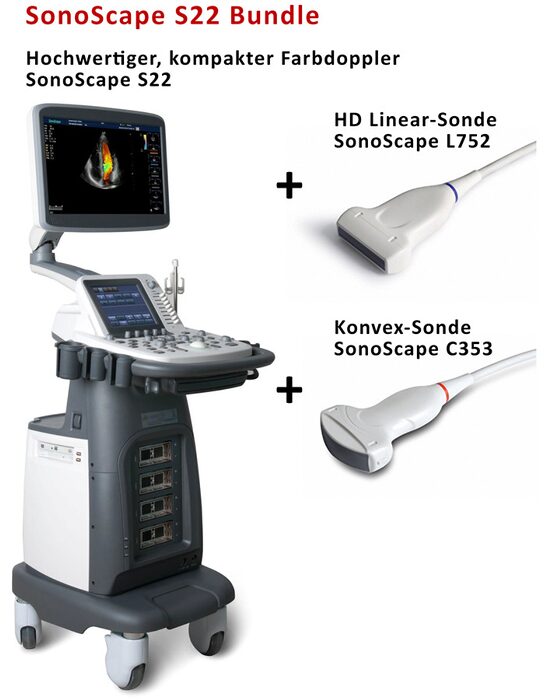 Features
18.5-inch high definition LCD monitor with large imaging area

Ergonomic design with 8-inch touch screen

Appealing keyboard layout with backlite silicone keys and conventional controllers are all habits justice

Four transducer sockets and one pencil socket

A wide selection of transducers: Convex, Phased, Linear, Transvaginal, Transrectal, Bi-plane, TEE, Intraoperative and Volumetric probe (a total of 22 compatible probes)

High density transducers with frequencies ranging from 1.9 to 16 MHz

200° transvaginal imaging with temperature-detection technology

Integrated with advanced technologies, such as μ-scan speckle reduction, compound imaging, IMT, B-Steer, automatic flow volume analysis, and real-time 4D imaging

ECG functionality

Shared Services full suite of applications, including: Cardiology, Radiology, OB/GYN, Urology, Vascular, Small Parts, MSK, and more

Full patient database and image management solutions: DICOM 3.0, AVI/JPG, USB2.0, HDD, DVD, PDF report

Built-in batteries for 2.5 h support

Foot Switch as accessory

Optional integrated gel warmer

4.5-inch locking castors fully flexible for easy transportation

*Hint: The "
online ruler
" (symbol "Measure" within the menu bar of FSI Viewer) is calibrated on the vertical measures and should be used for orientation only to get a feeling for proportions. Using the online ruler for warped image areas could lead to faulty dimensions which will be shown too short as a general rule. Please refer to the exact data of the technical specification or contact our service team.
Further Information
Brochures
Product Overview SonoScape Ultrasound Devices

View and print brochure in fullscreen
Download brochure as PDF
Product Overview SonoScape Ultrasound Probes

View and print brochure in fullscreen
Download brochure as PDF
Certificates
More Information

| | |
| --- | --- |
| Item Number | 1-191903-0204-107 |
| Delivery Time | 2-3 Tage |
| Short Description | SonoScape S22 bundle including two high-value probes Color doppler trolley system with 19" monitor and 4 transducer sockets. 64 phys. channels, compatible to HD probes, flexible monitor arm. Including HD linear probe L752 and high-value convex probe C353. |