Modular Computer Cart XCSIT511-PW011
Delivery Time :
By individual agreement
Item Number
1-021220-0545-111
Computer Cart XCSIT511 The fully built system included monitor, operation system and battery kit in one smartly designed configuration which allows user plug-and-play and avoids from fussing with cables, setup or multiple maintenances.
Email to a Friend
Modular Computer Cart XCSIT511-PW011
The new "Modular Computer Cart" provides caregivers with everything they need in a daily routine. The smart all-in-one computer cart can be combined with different ISO-nursing carts by various intents and purposes like frontline, emergency, dressing, managing medications, etc. The simple coupling system brings two trolleys become one within a few seconds so to give a smooth working environment for caregivers to access to patients' medical records directly during any work.
Combination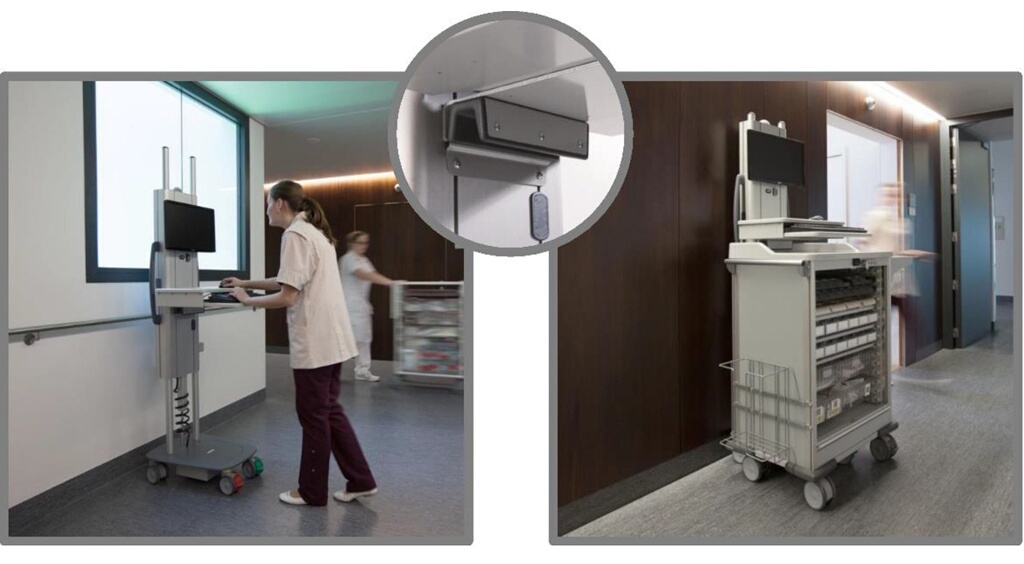 Features (ISO-Nursing Cart)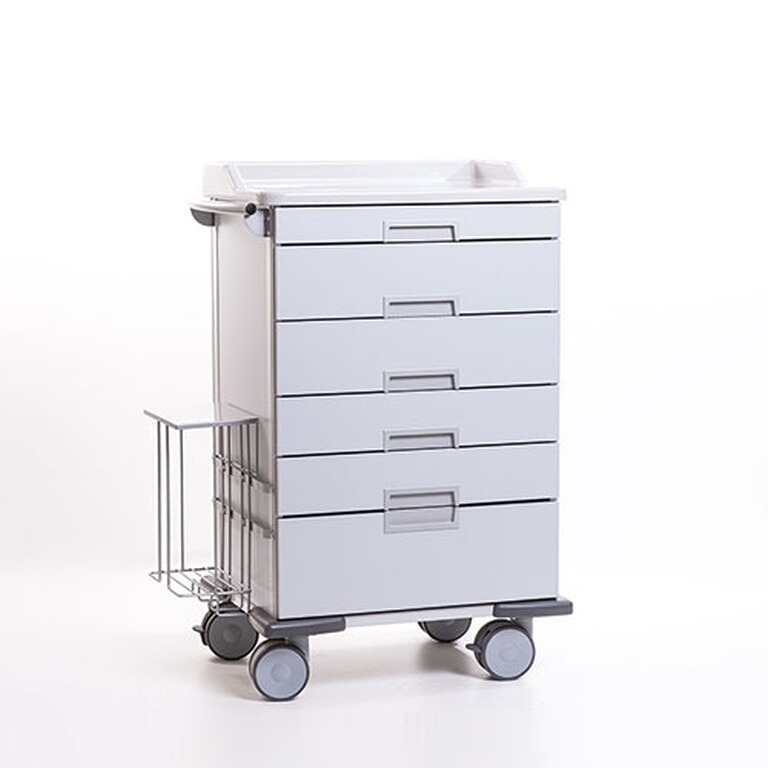 Technical Specification (ISO-Nursing Cart)
Product Name
ISO-Nursing Cart XCSPW011
Article number
1-021220-0520-011
Category
ISO-Nursing Cart
Measurements and Weight
Whole Body
External dimensions (W x D x H) [mm]
715 x 570 x 1047
Weight, body [kg]
Depending on configuration
Worktop
Height [mm]
998
Telescopic runners
Maximum load capacity [kg]
45
ISO Module or basket
Dimensions (W x D) [mm] ⁼¹²
○ 600 x 400
(H) [mm]
○ 50 ⁽¹⁾
○ 100 ⁽²⁾
○ 100 (with 50 mm extra space) ⁽³⁾
○ 200 ⁽⁴⁾
Tray for clear medication organizer
Dimensions (W x D) [mm]
○ 600 x 400
Clear medication organizer tray S ⁶ (D x W x H) [mm]
○ 400 x 92 x 82
Clear medication organizer tray M ⁴ (D x W x H) [mm]
○ 400 x 132 x 100
Clear medication organizer tray L ³ (Dx W x H) [mm]
○ 400 x 186 x 82
Tray for opaque medication organizer
Dimensions (W x D) [mm]
○ 600 x 400
Opaque medication organizer SL ⁶ (D x W x H) [mm]
○ 89 x 384 x 55
Opaque medication organizer LL ⁴ (D x W x H) [mm]
○ 131 x 384 x 55
Opaque medication organizer SH ⁶ (Dx W x H) [mm]
○ 89 x 384 x 131
Opaque medication organizer LH ⁴ (Dx W x H) [mm]
○ 131 x 384 x 131
Tray for covered medication organizer
Dimensions (W x D) [mm]
○ 600 x 400
Covered medication organizer ⁸ (D x W x H) [mm]
○ 67 x 385 x 41
Castors
Diameter [mm]
4 double swivel castors (Ø 125 mm), which one brake and one with directional lock
Materials
Bottom
Grey coated steel
Bumpers
PU foam
Corner profiles
Anodised aluminum
Panels
Core with HPL finish
Worktop
Kydex - chemical resistant, anti-bacterial
Handle
Aluminium
ISO Module
ABS plastic or transparent PC plastic
ISO basket
ABS plastic or transparent PC plastic
Equipment
Components
ISO Module or basket in heights of 50 mm
○
ISO Module or basket in heights of 100 mm
○
ISO Module or basket in heights of 100 mm (with 50 mm extra space)
○
ISO Module or basket in heights of 200 mm
○
Clear medication organizer S / M / L
○
Opaque medication organizer SL / LL / SH / LH
○
covered medication organizer
○
Telescopic runners
●
Soft-closing function
Lock
Lock the carts and monitoring the administration of medication
○
A keypad with PIN code to grant access via badge, password etc
Index
● Standard
○ Optional
Sum of (x) should equal to = y , e.g. (2) x 6 pcs = 12
Please contact us for other combinations
Features (All-In-One Computer Cart)
Battery indicator

Technical Specification (All-In-One Computer Cart)
Product Name
All-in-One Computer Cart XCSIT511
Article number
1-021220-0545-011
Category
Computer Cart
Measurements and Weight
Whole Body
External dimensions (W x D x H) [mm]
520 x 574 x 1866
Weight, body [kg]
55.4 (Without computer and monitor)
Length of coiled power cord [mm]
2000
Worktop
Height adjustment range [mm]
860 - 1310
Dimenions (W x D) [mm]
520 x 300
Maximum load capacity [kg]
25
Retractable drawer
Height adjustment range [mm]
770 x 1220
Dimenions (W x D) [mm]
480 x 300
Maximum load capacity [kg]
10
Castors
Diameter [mm]
4 double swivel castors (Ø 100 mm), which one electrically conductive with brake and one with directional lock
Materials
Base
Steel plate with high impact ABS cover
Profiles & housing
Anodised aluminum
Worktop
Kydex
Retractable drawer
Kydex
Handle
Polypropylene with 20% thermo plastic rubber
Power Module
Battery type
Lead gel
Capacity
12V, 480 Wh
Input voltage
100 - 240 VAC, 50/60 Hz
Design
Fan-less
Computing System
CPU
Intel NUC i3-5010U 2.10 GHz
Memory
8GB Ram
Storage
120GB SSD
WLAN
Intel AC7260 with external antenna
Design
Fan-less
Display
Monitor Holder
VESA
VESA 75 or VESA 100
Function
Self height-adjustable
Tiltable, swivelable, rotatable (90 °)
Maximum load capacity [kg]
7.2
Monitor
Display type
LCD panel with LED backlight, Wipe disinfectable
Screen size [inch]
22
Screen resolution
1920 x 1080 Pixel, Full-HD
Equipment
Mouse
Wipe disinfectable, IP65
Keyboard
Wipe disinfectable, IP65, QWERTZ layout
Please contact us for other combinations
Further Information
Brochures
Certificates
Certificate


| | |
| --- | --- |
| Item Number | 1-021220-0545-111 |
| Delivery Time | By individual agreement |
| Short Description | Computer Cart XCSIT511 The fully built system included monitor, operation system and battery kit in one smartly designed configuration which allows user plug-and-play and avoids from fussing with cables, setup or multiple maintenances. |